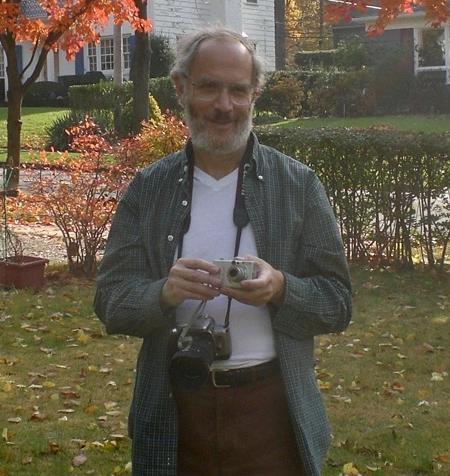 I see this picture of Rob with two of his many cameras as a reference to the fact that he always meant us to look beyond the obvious, to seek out other meanings.

— Valerie Feinman.
***
In the community of The Writing On The Wal, my dad found a few kindred spirits he could inspire to conversation and to action. He felt acutely the social problems of the world, especially those relating to the rights of workers and the importance of morality in economics–something he would have joked was a contradiction in terms.

Because his physical condition robbed him of the strength to act directly, he spent his last few years trying to figure out ways to effect change through his words. He poured his thoughts onto the Internet, and then into a book Watching the Trainwreck In Slow Motion, which sought to organize these thoughts and get them out into the world. Since his death, dozens of people have contacted me through his website to let me know that they found value in his words; most recently, a DNC publicity author contacted us for permission to base campaign publicity off one of his essays.

It was very important to him that people consider the ideas on their own merit, rather than because of who had said them or where they had been published. The idea of blogs democratizing authority appealed to him. And so I know he felt a certain satisfaction in contributing to the creation of a blog which acts as a kind of watchdog on one of the foremost examples of a company that systematically oppresses and disempowers its labor force. Translating words into action is always a challenge, and so I salute the members of the TWOTW community that take action to reverse the problems they discover.

— Alex Feinman
Shalom Y'all,
We lost Robert one year ago.
I continue to post his essays each Sunday morning and will do so until they all appear here at The Writing On The Wal.
In addition, I'm beginning a new project spun off from his Proposal For A Worker's Affinity Group. The more I read and learn about the Union movement in this country, the less I believe that the 20th (19th?) century model for worker organization makes sense in the 21st century. I could be wrong, but it's a path worth exploring and my own way of keeping Robert's vision alive.
B'shalom,
Jeff