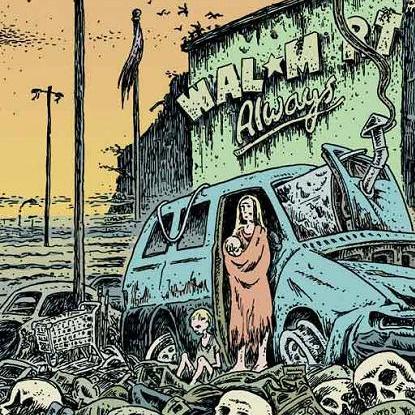 In the past Walmart was taken to task for tossing usable food into the dumpster rather than donating perfectly good food to food banks or kitchens, and to Walmart's credit, it changed it's policy and began to direct food away from the landfill.
There is a gray expanse, however, between food that can be sold in a store and food no longer fit for human consumption. (Believe me, I'm seen people desperate enough to eat food I wouldn't feed to pigs.)
Navigating that expanse is not a task that can be micromanaged from Bentonville. Local workers must be able to make judgments based upon the needs of those accepting the food donations and local management must engage in a conversation that connects workers with social services providers.
In the Walmart work environment, those actions have to be extremely difficult, if not impossible to accomplish. Which leads me to Al Norman's Wal-Mart's Rotten Hunger Campaign.
Norman makes the case that what could have been a model program has degenerated into a money-saving tax dodge that only an accountant sequestered in the bowels of headquarters could love.
Just three months ago Wal-Mart announced that it was going to help "end hunger in America" by donating more than 1.1 billion pounds of food from Wal-Mart stores, distribution centers and Sam's Club locations, valued at $1.75 billion. Wal-Mart and its Foundation dished out a 5 year plan for "Fighting Hunger Together."

At a Capitol Hill press conference, Wal-Mart fed the media with "downloadable event photos" of the announcement, and "press event B-rolls and soundbites." This kind of photo-op philanthropy could be called 'loud giving,' and Wal-Mart is a very loud giver. Representatives from the USDA and the U.S. Senate Hunger Caucus were there for morsels.

Wal-Mart said its cash and in-kind gifts of "fresh produce, meat, dairy and other foods" would provide more than 1 billion meals to needy families. Wal-Mart's Vice Chairman claimed the company would use its "scale and reach" to create a day "where no individual in this country has to go to bed hungry or worry if there will be food to put on the table tomorrow."

Last year, Wal-Mart says it doubled its food donations, providing 81 million more pounds of food than the prior year. Assuming 1.28 pounds of food is equivalent to one meal, Wal-Mart estimates its five-year plan will help U.S. food banks deliver the equivalent of more than 1 billion meals.
The operative word here is equivalent.In 1976, Congress amended the IRS code to allow certain corporations to earn an "enhanced tax deduction" for donating "wholesome food" that has been properly saved, and donated to an approved agency. The enhanced deduction is equal to one-half of the donated food's appreciated value, as long as the total deduction does not exceed twice the donated food's cost. The incremental tax deduction is calculated on the donated food's fair market value and basis food and labor cost.
Assuming Wal-Mart's donated food is valued at $1.75 billion, and their enhanced deduction is equal to half the donated food's retail value, or $875 million, at a 35% tax rate, Wal-Mart could net a tax deduction of $306 million off their taxable income. Congress may have wanted to encourage donations, but it is the U.S. taxpayer who really loses this income.
This sets up a scenario where the more pounds of food, any food, that Walmart stores ship out subtracts directly from the company' tax. Once you accept that reality, what happens next is a no brainer.
A Wal-Mart employee who works in a produce department south of the Mason-Dixon line, described for me what he calls Wal-Mart's 'landfill reduction program." He asked not to be identified out of fear of retaliation.

"We used to throw away at least 2 pallets of rotten fruit and vegetables in the compactor every single day," he told me. "Now, instead of throwing away all the rotten stuff we would box up stuff that is just out of date or not so bad and print a label, then give it to food banks, who supposedly could make meals out of this stuff to give away."
The stench is too far away from Bentonvile to make a difference. Now if the food banks could start shipping the inedible produce to Mike Duke's office suite…