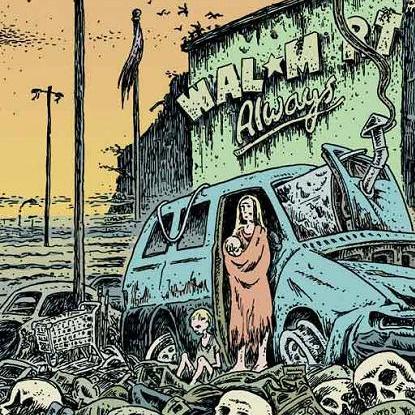 Do you suppose the security guard saw a couple of furner lookin' folks and just knew that they were up to no good? Or perhaps the guard was upset with all the cash the socialists in Washington were giving furners when he had to make do with a job as a Walmart security guard.
From The Courthouse News Service:
Newlywed shoppers claim Wal-Mart's false accusation that they tried to steal $2.90 worth of chicken neck bones caused the wife to be falsely arrested and lose her job, her husband to be deported, and both to lose their car, all their possessions and their house – though Wal-Mart's security video showed they had paid for the damn chicken bones.

Mary Hill Bonin sued Wal-Mart and several of its managers in Jefferson County Court.

Bonin says the imbroglio ensued when she went shopping at the Adamsville Wal-Mart on July 1, 2007, with her husband of 2 months, who was not yet a U.S. citizen.

They used the self-checkout counter to save time.

Bonin says the scanner would not register the $2.90 worth of chicken necks, so she asked a Wal-Mart employee for help. The employee checked the machine and told her "it's okay," according to the complaint.

The Bonins left and showed their receipt to the greeter and door guard, who accused them of stealing the neck bones. According to the complaint, things got out of hand pretty fast:

"Plaintiff told these employees to look again as the item was on the bottom of the receipt and therefore accounted for. The security guard started screaming and asked to see the identifications of the plaintiff and her husband. The security guard screamed at the plaintiff and her husband saying they were going to be deported.
Given all the comments we get here on buying meat at Walmart, passing up on the chicken necks seems like a smart move.