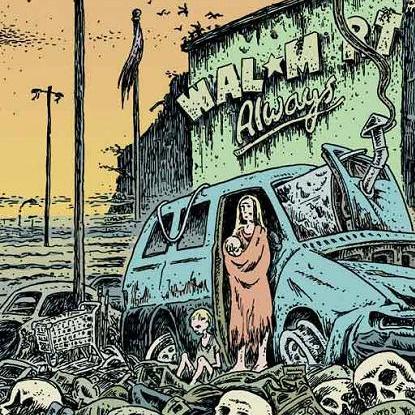 Can a wildcat strike by 13 Walmart associates (sorry, that's what over a dozen means, if it was more than that give us the precise count and we'll report the precise number, it can't be that hard) be effective? It can if it emboldens others to lose their jobs.
[Update No. 2 at 1634 on 10 October -- From Salon:
For the second time in five days – and also the second time in Walmart's five decades – workers at multiple U.S. Walmart stores are on strike. This morning, workers walked off the job at stores in Dallas, Texas; Miami, Florida; Seattle, Washington; Laurel, Maryland; and Northern, Central, and Southern California. No end date has been announced; some plan to remain on strike at least through tomorrow, when they'll join other Walmart workers for a demonstration outside the company's annual investor meeting in Bentonville, Arkansas. Today's is the latest in a wave of Walmart supply chain strikes without precedent in the United States: From shrimp workers in Louisiana, to warehouse workers in California and Illinois, to Walmart store employees in five states.]
[Update No. 1 at 0737 on 10 October -- From Huffington Post:
The first retail worker strike against Walmart has spread from Los Angeles, where it began last week, to stores in a dozen cities, a union official said Tuesday.

Walmart workers walked off the job in Dallas, Seattle, the San Francisco Bay area, Miami, the Washington, D.C., area, Los Angeles, Sacramento, Chicago and Orlando, said Dan Schlademan, director of the United Food and Commercial Workers' Making Change At Walmart campaign. Workers also went on strike in parts of Kentucky, Missouri and Minnesota, he said.

Tuesday's walkouts included 88 workers from 28 stores -- a minuscule fraction of the 1.4 million who work at Walmart, the world's largest private employer. Until Friday, when about 60 Walmart employees walked off the job for a day in LA, no Walmart retail workers had ever gone on strike, the union said.

The workers are protesting company attempts to "silence and retaliate against workers for speaking out for improvements on the job," according to a United Food and Commercial Workers news release. Walmart workers, who are not unionized, have long complained of low pay and a lack of benefits.

Some striking Walmart associates plan to protest Wednesday at a Walmart annual investor meeting at its headquarters in Bentonville, Ark., said a striking worker.

"I make $8.90 an hour and I've worked at Walmart for three years," said Colby Harris, 22, of Dallas. "Everyone at my store lives from check to check and borrows money from each other just to make it through the week." The six heirs to Walmart founder Sam Walton, meanwhile, are worth $89.5 billion, or as much as the bottom 41.5 percent of Americans combined.]
If workers want to change Walmart, this is where they must be prepared to go.
With Strikes Protesting America's Largest Retailer Expanding




Workers at Walmart in Laurel, Maryland,

Walk Off The Job With Community Support




For the First Time in History, Walmart Faces Strikes

among Workers in its Stores,

Warehouses and Distribution Centers It Controls

Local Community Supporters Join Striking Workers Across the Country to Call on Walmart and Chairman Rob Walton to Stop its Illegal Retaliation and Attempts to Silence Workers who have Spoken Out Against Poor Working Conditions that are Hurting the American Economy

LAUREL, MD – This morning, at the Walmart in Laurel, MD, workers and their allies stood together, as over a dozen associates went on strike to protest Walmart's attempt to silence workers who speak out for better pay, staffing and working conditions. "We have had enough", said Alan Forrest, a striking employee from the Laurel store, who lives in DC and has filed an unfair labor practice charge against the store himself, "we are no longer afraid and are standing together with our fellow associates from across the country to say we will not be intimidated as we stand up for respect."

As striking workers from Walmart's stores, contracted warehouses and distribution centers embark to the retail giant's headquarters in Arkansas during its Annual Financial Analysts meeting, communities across the country are showing their support for changes at more than 650 Walmart stores across the country.

"We cannot stand by while the country's largest employer tries to silence workers who stand up for a better future for their families," said Pastor Edwin Jones, of Living Faith Baptist Church and International Ministries in Washington, DC. Pastor Jones, along with communities across the country have been calling for changes through a Unified Call to Change Walmart. "We are here to tell Walmart the company must change the way it treats workers and our community. Our city and our country need big profitable corporations like Walmart and billionaires like the Waltons to take responsibility for rebuilding our economy – and stop squeezing the middle class to the breaking point."