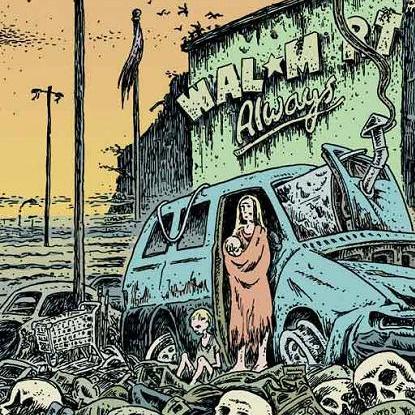 I pay my monthly bills, put food on my table and gas in my car as an educator. And I'm not a member of any teacher's union. I hear (and occasionally see) the same examples of educational malpractice that charter school advocates trot out whenever they can.
But I still think that public education trumps the private models we've seen in recent years as an alternative, and that turning schools into for-profit entities is a bad idea. But what does that have to do with Walmart?
From Clay Burell:
The biggest players in the charter school movement – the Walton Family of Wal-Mart fame, Bill Gates, Eli Broad, New York City Mayor Bloomberg and his appointed school chancellor Joel Klein – are all on record as being anti-union. The Walton family's hiring practices at Wal-Mart are infamous for creating precisely the class of working poor that Borosage discusses above:

The Walton Family Foundation of Wal-Mart is the single biggest investor in charter schools in the United States, giving $50 million a year to support them. The Waltons specialize in giving money to opponents of public education.

"Empowering parents to choose among competing schools," said John Walton, son of Wal-Mart's founder, "will catalyze improvement across the entire K–12 education system." According to a National Committee for Responsive Philanthropy report, "Some critics argue that it is the beginning of the 'Wal-Martization' of education, and a move to for-profit schooling, from which the family could potentially financially benefit. John Walton owned 240,000 shares of Tesseract Group Inc. (formerly known as Education Alternatives Inc.), which is a for-profit company that develops/manages charter and private schools as well as public schools."

Wal-Mart is a notorious union-busting firm, famous for keeping its health-care costs down by discouraging unhealthy people from working at its stores, paying extremely low wages with poor benefits, and violating child labor laws. The company has reportedly looted more than $1 billion in economic development subsidies from state and local governments.

Its so-called philanthropy seems also to be geared to the looting of public treasuries.
I was taken to task recently for suggesting that Mike Duke's alleged support of an Arkansas bill prohibiting homosexuals from fostering or adopting children was an infringement upon Duke's free speech.
But when we're dealing with millions and millions and millions of dollars, we must exercise our own rights to free speech to question just what others intend to do and ask, do we really want to go there?